Hawaii luxury home sales jump 26% in 2020
Hawaii luxury home sales jump 26% in 2020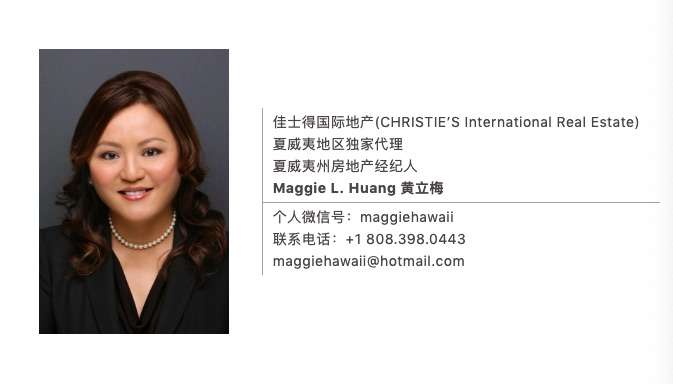 About Maggie Huang
Maggie L Huang is a REALTOR, CIPS with Hawai'i Life.
As the Hawaii Life one (HL1) Director for Asia Pacific Region and an exclusive affiliate of CHRISTIE'S International Real Estate with Hawaii Life, I bring a model to real estate that's similar to private banking, with a strong focus on advisory services, as well as key insights into Chinese investment in Hawaii. I market and sell Honolulu's most exclusive properties on behalf of a client base that includes top executives, high-profile celebrities, prominent developers, and high-net-worth investors from the continental U.S. and overseas.
Please contact me for assistance with Oahu, Hawaii real estate.
You can email me at [email protected] or via phone at (808) 398-0443.
Sales of high-end properties in Hawaii's luxury home market grew by more than 26% in 2020 as the Covid-19 pandemic created a newfound sense of urgency and the inventory of single-family homes in the Islands dropped, according to a year-end report by Hawaii Life and its private subsidiary, HL1.
Read more from Pacific Business Journals, as below:
The number of luxury properties sold — defined as single-family homes, condominiums and residential land selling for $3 million or more — increased to 362 transactions last year, which was a 27.5% increase from 284 transactions in 2019. The majority, 66%, of those were sales of single-family homes, with condo sales comprising 25.7% of the total and land sales just 8.3%.
Total dollar volume grew 26.25% to $1.95 billion, from $1.54 billion in 2019, the report found. There were 24 transactions of $10 million or more, topped by the $37 million sale of an oceanfront estate in Kukio Golf and Beach Club on Hawaii Island, followed by the $36.75 million sale in Hanalei of three consecutive properties by one seller to one buyer.
The majority of transactions, 276, were in the $3 million to $5.99 million range, while 62 were for $6 million to $9.99 million.
Hawaii Island saw the largest jump in luxury property sales, with transactions nearly doubling to 107, from 56 transactions in 2019, and dollar volume growing by 60% to $586 million, which included six sales of $10 million or more.
The number of luxury transactions on Kauai grew 65% in 2020 to 38 sales, from 23 in 2019, and dollar volume soared by 161% to $273.3 million last year, compared to 2019. Kauai had seven sales of $10 million or more, the most of any island. Oahu had 128 sales of $3 million or more for a dollar volume of $621.8 million and five sales of $10 million or more — three beachfront homes in Kailua and two units in the Park Lane Ala Moana condominium. Maui had six $10 million-plus sales, which helped push dollar volume on 89 luxury sales to $468.5 million, an increase of 0.67% from 2019.
Hawaii Life CEO Matt Beall noted in the report that his firm's "luxury market share grew dramatically in 2020." The dollar volume of Hawaii Life's luxury transactions more than doubled, and the company's total sales, at all price points, grew to $2.17 billion in 2020, from $1.6 billion the year before.
Beall expects demand to continue in 2021, especially from foreign buyers once there is more broad distribution of the Covid vaccine, and said his firm expects 2020-2021 to be the "beginning of a long bull market in high-end real estate in Hawaii."
"Demand continues to be high, while the inventory of single-family residences is at an all-time low," Beall wrote. "The dwindling number of quality homes available for sale at the high-end may prove our market's biggest challenge in 2021 — especially as international travel resumes and further fuels the demand for Hawaii real estate."
Top 5 Hawaii luxury sales in 2020
$37M,  Kukio Golf and Beach Club, Hawaii Island
$36.75M, Hanalei, Kauai
$24M, Kapalua Resort, Maui
$19.87M, Haena, Kauai
$19M, Makena, Maui