Hawaii's ultra-luxury real estate market smashes records, as sales soar 600%.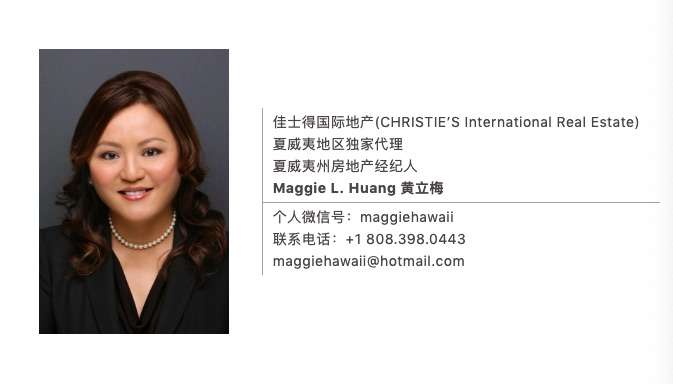 About Maggie Huang
Maggie L Huang is a REALTOR, CIPS with Hawai'i Life.
As the Hawaii Life one (HL1) Director for Asia Pacific Region and an exclusive affiliate of CHRISTIE'S International Real Estate with Hawaii Life, I bring a model to real estate that's similar to private banking, with a strong focus on advisory services, as well as key insights into Chinese investment in Hawaii. I market and sell Honolulu's most exclusive properties on behalf of a client base that includes top executives, high-profile celebrities, prominent developers, and high-net-worth investors from the continental U.S. and overseas.
Please contact me for assistance with Oahu, Hawaii real estate.
You can email me at [email protected] or via phone at (808) 398-0443.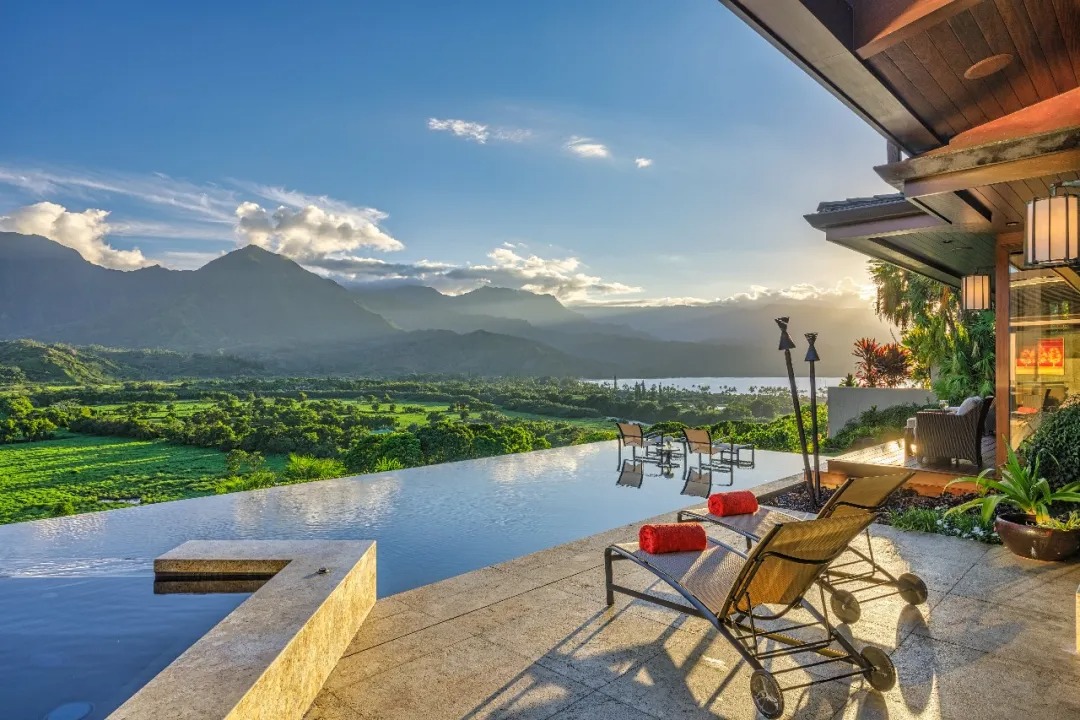 Hawaii's luxury real estate market is soaring to all-time highs fueled by several factors including pent-up demand from the coronavirus pandemic, record low interest rates and rising equity markets.
Read More from CNBC.com, as below:
In the first three quarters of this year, homes valued at $3 million or more saw sales volume rise 235% compared with the same period in 2020. Deal volume hit a record-breaking $3.7 billion, according to Hawaii Life's Luxury Market Report. But sales of homes priced above $10 million have climbed at an even more robust pace — trouncing state records.
"It's just been like a rocket ship," said Hawaii Life Real Estate CEO Matt Beall. "Referring strictly to the data, it's just an incredible, incredible event for the market."
Beall, who's been selling real estate in Hawaii since 1998, said he's never seen a faster moving market, as the vast majority of the high-end transactions his firm has brokered are being purchased in all-cash deals.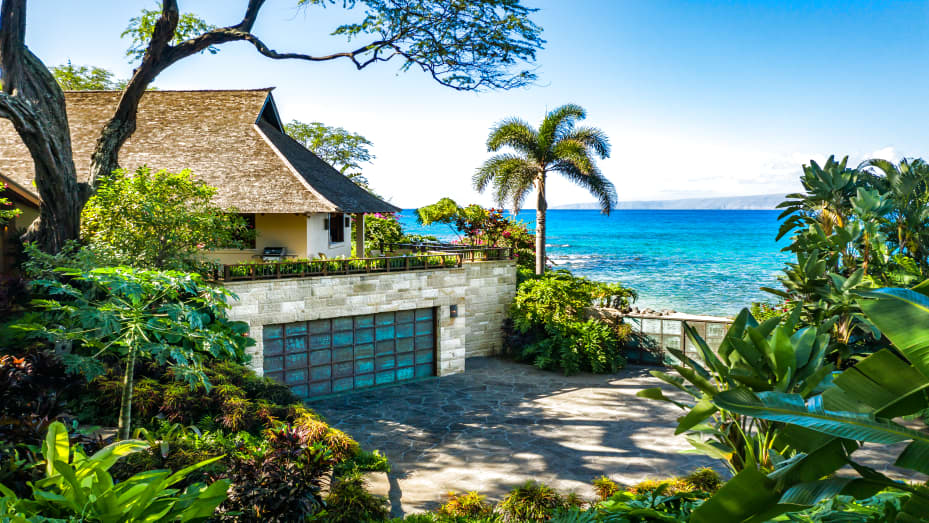 "There were people showing up, they're like, 'OK, I'm [going to] … offer on this house sight unseen. … It's going to be a two-week closing. I'm going to have a 13-day due diligence, I'm going to fly in on the 12th day, … meet with all the inspectors, … and move in on the 14th day.'"
Beall said the pace has been "aggressively quick" with some $20 million deals closing inside of 30 days.
"I think that pace caught not just the profession off guard, but also the sellers. You know, it's like … that's not normal," he said.
The state's previous record for volume was set in 2017, when the first three quarters of the year saw 317 transactions and $1.67 billion in total luxury home sales. Over the same time period, 2021 saw more than double the sales volume and two times the transactions, with 634 sales of homes priced above $3 million. That's an average of about 16 luxury homes selling per week, every single week for 39 straight weeks.
″The volume and the velocity of Hawaii's real estate market have shattered every record and historical norm previously held," said Beall in his report.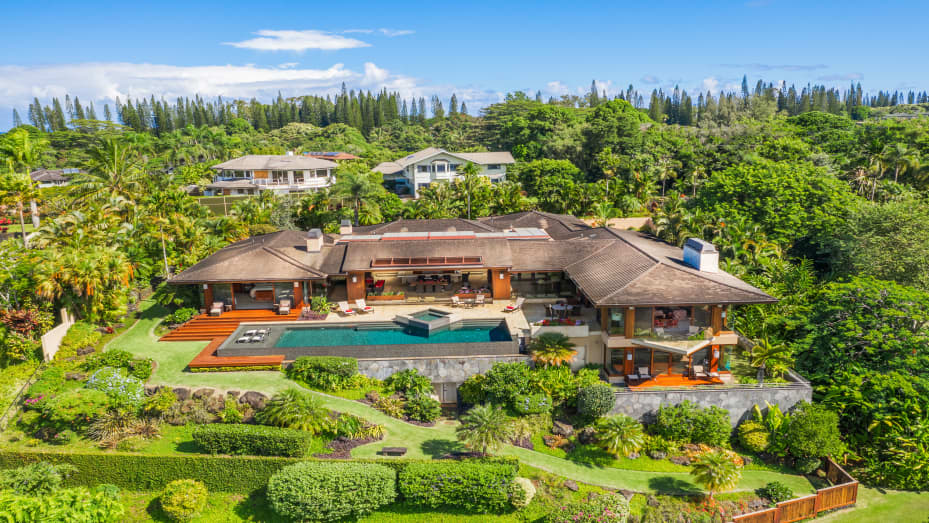 Remarkably, the gains are coming at a time when most foreign buyers have been unable to visit Hawaii and participate in the record-breaking buying spree due to Covid-19 restrictions. In 2019, foreign buyers accounted for about 4% of home sales in the state, Beall said.
"It's really significant to me that all of this, or the great majority of it, is been done domestically," he said.
Real estate firm Hawaii Life is having a record-breaking year as well, Beall said, with more than $3 billion in sales over the first three quarters of 2021. Sales of luxury homes accounted for $1.38 billion of the total sales volume.
According to the data, the average luxury home in the state sold for more than $6 million, up 12.4% over the same period last year, with an average price per square foot of $1,795.
"We are seeing buyers from the entertainment, technology and finance sectors purchase both high-profile and off-market listings, and for record-setting prices," said Beall in the report.
Most notable was the staggering growth in the ultra-luxury market, which includes homes priced above $10 million. In the first three quarters, there were 64 transactions totaling $1.06 billion in sales in this segment — a 603% change in dollar value over the previous-year period and more than six times the number of transactions.
Across the state's eight major islands, most of the growth in ultra-luxury sales came from the Big Island, which saw a 1,582% change in sales volume over 2020. That gain was followed by Maui, which saw a rise of 644% in sales volume, and Kauai, which was up 640%.
In the first three quarters, the Big Island accounted for $393 million in sales volume, or 37% of the state's total in the ultra-luxury category.